Charges for 2022 & 2023 Weddings:
Base charge for venue                                                                                                                                                              $1,680
This includes:
– access to the gardens on the day before the wedding for a rehearsal, usually takes an hour or two.
– access to the gardens on the wedding day from 9am to 6pm (unless having a reception)
– toilet facilities
– 50 white wedding chairs for ceremony
– use of riverbank building for drinks & nibbles, includes various furniture
Optional extras:
               – Large white garden umbrellas x 4    –  $50 each
              
Wedding receptions –  fee varies, depending upon details, so please describe your perfect day to us and we can quote for you.
A deposit of 10% is required at the time of booking and then full payment be made by 1 month out from the Wedding Day. (Payments are made by direct deposit).
Paradise Gardens is  available most of the year, with the November/December and March/April being the most popular periods for weddings, so best to get in early if you are set on a particular date!
---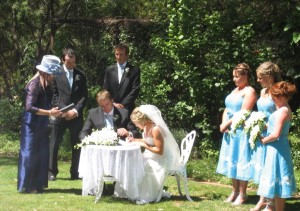 Signing Table & Chairs are provided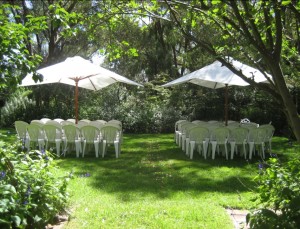 Chairs for Ceremony – there are 50 white chairs available for the ceremony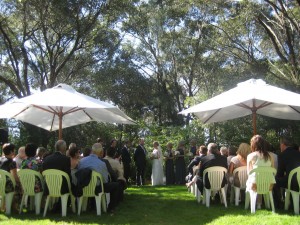 Garden Umbrellas x 4 are available



New Pavilion – if the weather is not perfect, there is a beautiful undercover area in the garden for the ceremony

Drinks & Nibbles – many couples choose to offer drinks & nibbles to their guests by the river, there is an undercover area there where guests mingle, there is plenty of seating & timber trestle tables to spread out your platters. We also have wine tubs on stands which you can fill with ice and a selection of drinks.
Cancellations
If a wedding booking is cancelled within 6 months of the wedding date, the deposit will not be refunded.
Viewing Gardens
For appointments to view property, bookings or further information please call or text:  Sue  0429-836230.