Charges for 2017 Weddings:
Wedding ceremony & photo time (approx. up to 3 hours)                     $1180
Wedding reception – varies, depending upon details, so please discuss
Charges for 2018 Weddings:
Wedding ceremony & photo time (approx. up to 3 hours)                     $1180
Wedding reception – varies, depending upon details, so please discuss
A deposit of 10% is required at time of booking and then full payment by 1 month out from the Wedding Day. (Payments are made by direct deposit, cheque or cash.
Paradise Gardens is  available most of the year, with the November/December and March/April being the most popular periods for weddings, so best to get in early if you are set on a particular date!
---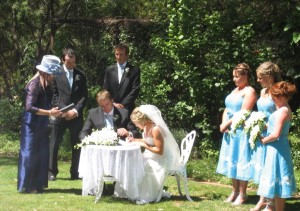 Signing Table & Chairs
A signing table is included for the ceremony (complimentary)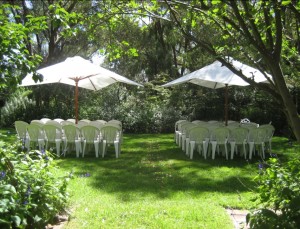 Chairs for Ceremony
Usually you have some chairs for the ceremony, 50 works well, it is mostly for immediate family and elderly guests at the front, the rest of the guests stand behind as often the ceremony does not take long (about 30mins)
We have 50 white plastic chairs which are perfect for the wedding ceremony. They are setup in rows to create an aisle in the middle where we scatter fresh rose petals, as shown below. These chairs are $50 to hire (ie. $1 per chair)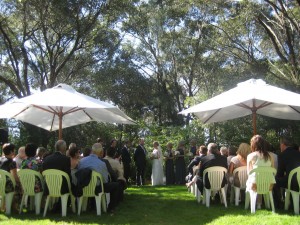 Garden Umbrellas
There are 4 Garden umbrellas available at Paradise Gardens, many couples have 2 set up in the 'ceremony lawn' which looks gorgeous! Then they often have the other 2 setup on the 'river lawn' where they are having their drinks & nibbles, see above and below photos. These umbrellas are $50 each to hire.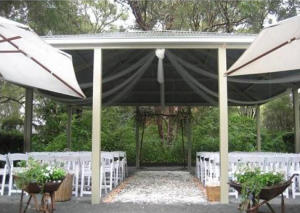 New Pavilion
We also have a new pavilion within the garden which is being used often for ceremonies. This is complimentary.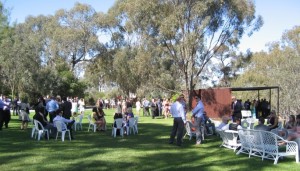 Drinks & Nibbles
We are finding many weddings like to serve finger -food and drinks to the guests after the ceremony, while the wedding party has photos taken throughout the garden, you are most welcome to arrange this.
We provide a range of white cane furniture, tables, wine tubs and rubbish bins. We setup for you and clean up after the wedding.
Drinks & nibbles fee: $100 (guests left by 6pm)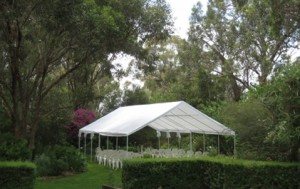 Marquees
If you are concerned about the weather, we also have two white wedding marquees which can be hired for weddings. These marquees are identical and each 6x6m, they can also be put together to form one larger ten, 12x6m to comfortably shelter 100 plus guests. You may choose to hire them if concerned about rain, or just for extra shade. We can erect them along the river bank or within the garden, depends on your preference. (They can also have their sides left off if preferred.) Please inquire for the cost to hire.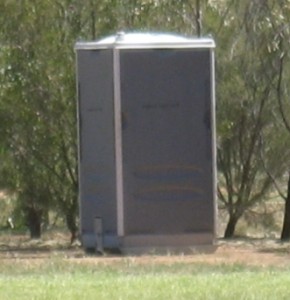 Portable Toilet Hire
Our conditions of operation now require that a portable toilet be hired for all weddings (cost around $150). We can arrange this for you if you'd like.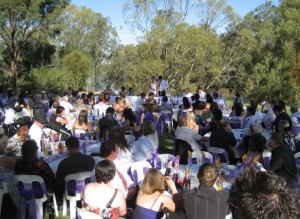 Wedding Receptions
It is possible to have both your wedding ceremony and wedding reception at Paradise Gardens, so please let us know and we can discuss options with you. We have had a wide range of receptions, from small receptions with around 20 guests, drinks and finger food served, right up to larger receptions with over 300 guests, large round tables with seating, bridal party table and full sitdown meal served, bar, band and dance floor.
Please see separate page showing some photos of receptions, LINK TO GO HERE
Cancellations
If a wedding booking is cancelled within 6 months of the wedding date, the deposit will not be refunded.
For appointments to view property, bookings or further information please call :
Sue on 03-54836230 or 0429-836230.
You may also email on: beveridge@mcmedia.com.au